Overview

This project was a part of my User Experience Design Course at RMIT University, working with my group #cursed_baos.
Telstra is in the development process of creating a new virtual Voice Assistant embedded inside the Google Assistant app. This project is our team's approach to solve the problems of the current Telstra Voice Assistant.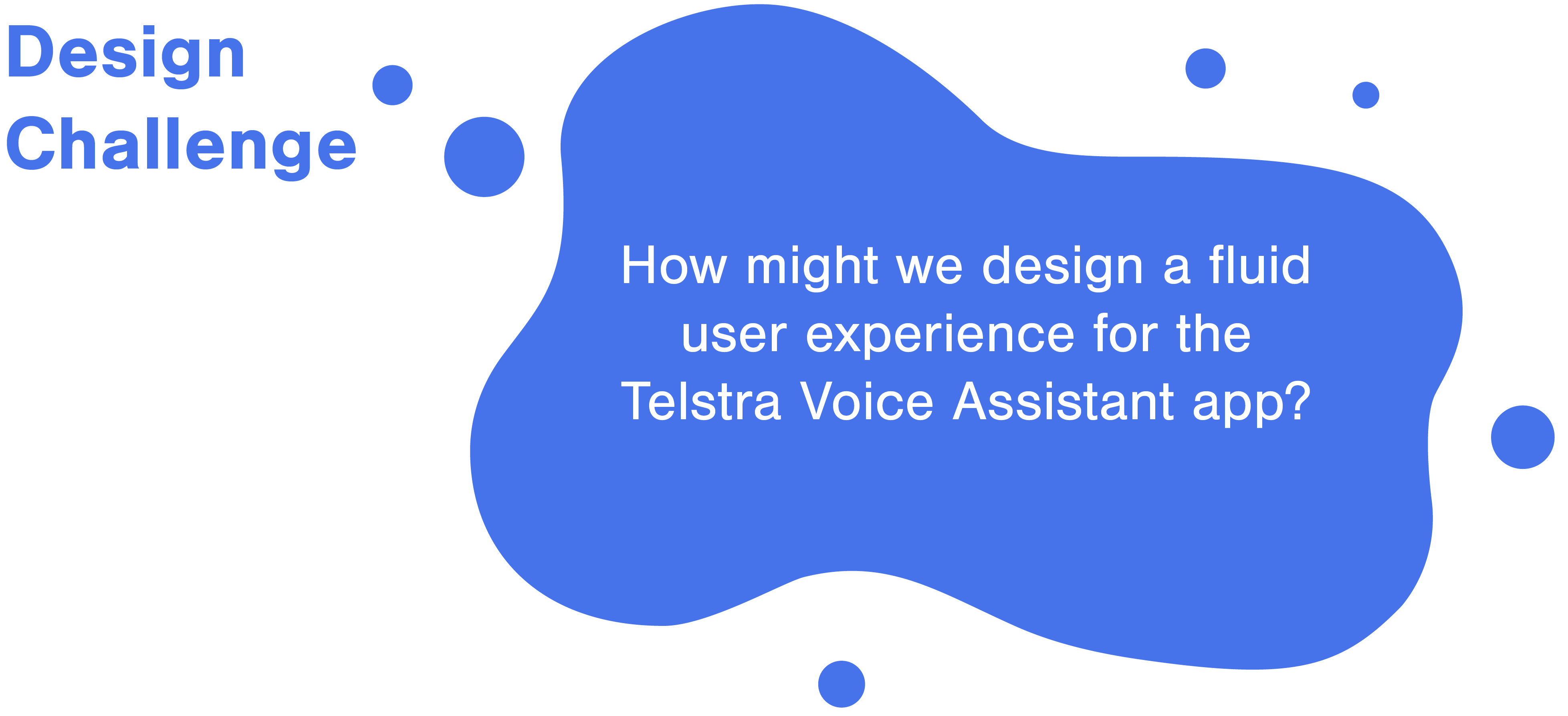 Design Challenge Response
About Telstra Voice Assistant
Telstra Corporation Limited is Australia largest telecommunications company. They are developing a Virtual Assistant embedded inside the Google Assistant App.


Target Audience
Telstra users with Google Assistant app installed on their phones.


The Problem
During user testing customers commented on how the interactions between using voice and the app weren't as fluid as they could be. They also missed many of the screen interactions that was being delivered from the app.
On the market

There are several Australian companies that have adopted this new technology in Google Assistant, such as NAB, AGL, Woolworths. At the moment, Optus is the only telecommunications company using Google Assistant for voice assistant. Vodafone has launched its Google Assistant-integrated app in Europe in October 2017 but has not made the debut in Australia.
︎ View full analysis here



We gathered our interview & survey datas and then categorised into these 3 insight groups:
Users are divided into 3 main groups: The Competent User, The Casual User and The Passive User.


Each group has its distinctive features in usage behaviour and attitude towards virtual assistant and voice technology in general. We created empathy maps to get a further understanding of each user group so as to define their goals and pain points.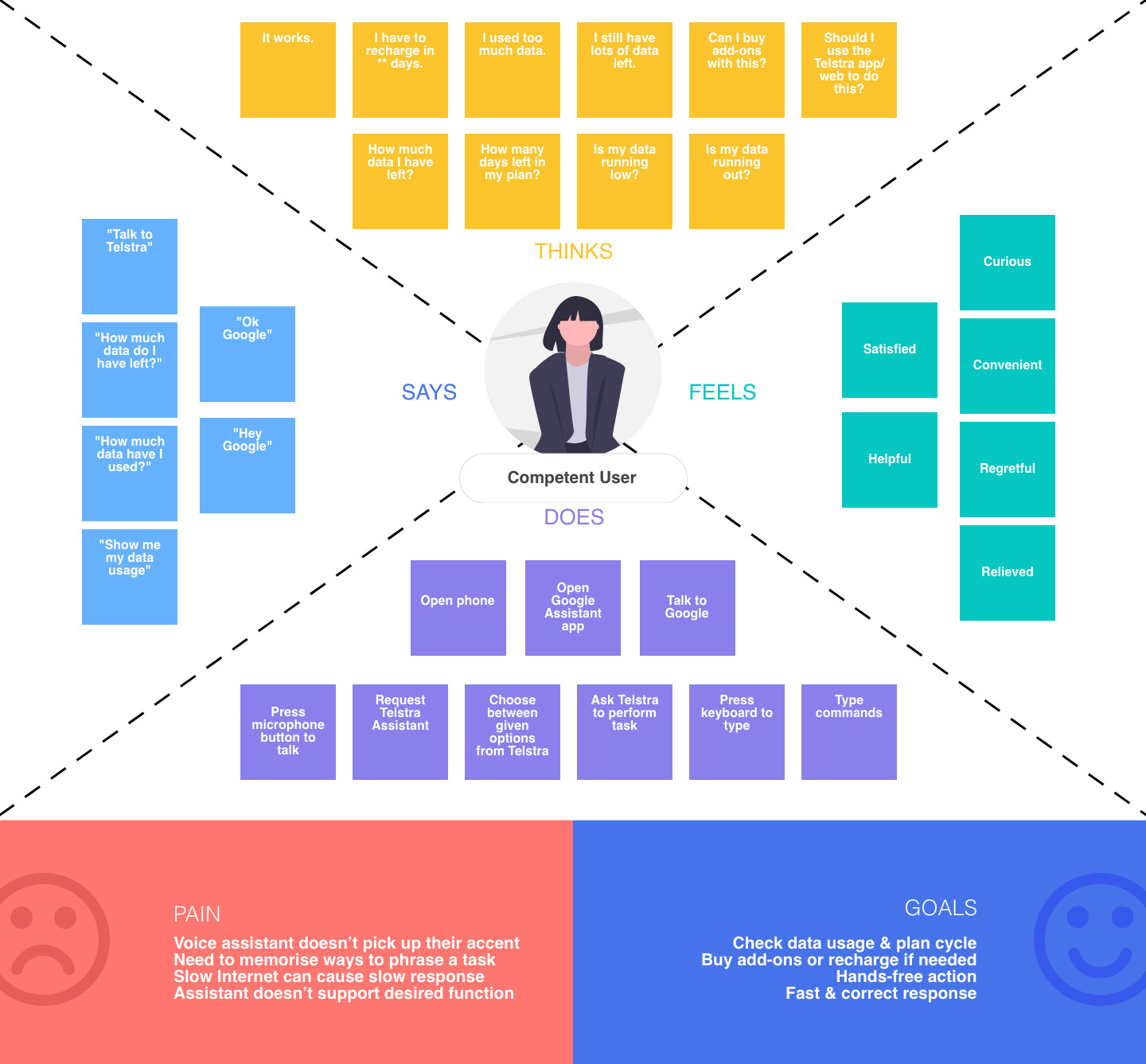 To have a better understanding of the product's real competitors – the traditional mobile application, we applied the 4 Forces Model in our process to find an effective way to approach the problem.
User flows & Use cases

After considering the functions for Telstra Assistant, we decided to start developing by creating user flows and use cases for some most-used features – checking data usage and paying bills.
Low fidelity prototype (touch & voice)

Scenario – "You are using a Telstra post-paid plan and want to check how many data you have left on your number: 0400 987 654. You want to try using Telstra Assistant to check your data usage."


Scenario – "It's almost time for you to pay the bill of your monthly post-paid number: 0400 987 654. You want to try using Telstra Assistant to pay this month's bill."
Lo-fi Usability Testing

We got 7 participants to take part in the usability testing session with our low fidelity prototype of Telstra Voice Assistant on Adobe XD. All of the participants were asked to finish 2 activities: check data and pay phone bill through Telstra Voice Assistant. Their overall impressions were how the Assistant was easy to understand and easy to use. However, its responses were slow and unrelevant. During the tests, we encountered some technical issues with the first 2 participants but we learned from that and improved our prototype right after that.
︎ View full report here
High fidelity prototype

With the data we gathered from the User Testing session for the Low Fidelity Prototype, we continued to improve our prototype with more features and developed solutions for the existed problems.
Hi-fi Prototype Usability Testing

Challenges

1. Google Assistant's terms and policies
We aim to develop our product while complying to the policies that Google created for 3rd party app. This situation has led us to limit the payment method to only Google Pay and existing payment option on user's Telstra account

2. Adobe XD limitation
During the user testings session, we realised that the limitation of Adobe XD have some certain effect on the result of the testing. Because if the user want to talk with the Telstra Voice Assistant, they need to hold on the screen to talk. This is different from how user interact with Voice Assistant in real life

3. First time users
The majority of the users weren't aware about how to call for a 3rd party assistant on Google Assistant and needed to be guide through to be able to do it. It is essential for us to work with the Marketing Department in order to educate the customers on the matter.
Final Outcome

After a cycle of testing and getting feedbacks and analysing our usability tests data, we concluded with the 3 factors that need to be acquired in Telstra Assistant.
A completed diagram of Telstra Assistant's functions.
We can also utilise Telstra's database to create a library of FAQs and give users useful and concise answers for their questions.
Key Takeaway

Gaining user interviewing and information processing experience.
Researching and analysing complex data.
Applying in experience design methods in real cases.
Learning to use Adobe XD for designing and prototyping.
Adobe XD Award

Our project won the "Best Effective Solution" of the 2019 RMIT – Adobe XD Award 2019, a collaboration between RMIT University School of Design and Adobe.
About #cursed_baos
💥
My Nguyen
(s3627571) – User Research, Competitor Analysis, User Flows, Empathy Maps, Journey Maps, Low-fi Prototyping, Usability Testing, Design
🐯
Thai Tue Linh Nguyen
(s3618859) – User Research, User Interview, User Flows, Journey Maps, Use Cases, Empathy Maps, Usability Testing
😬
Anh Nguyen
(s3575391) – User Research, User Interview, Empathy Maps, Journey Maps, Design
💅Youhan Mao (s3536506) – User Research, Company Research, User Interview, Usability Testing, Design, Video Editing
Special thanks to our lecturer
Rusty Benson
for guiding and helping us, and to RMIT University, Telstra & Adobe XD for giving us the opportunity to work on this amazing project.
Open-source illustrations by
unDraw
.
Thank you for making it this far ︎
Here's a little gift for you.