Overview

This project was a part of my User Experience Design Course at RMIT University, working with my group #cursed_baos.
Telstra is in the development process of creating a new virtual Voice Assistant embedded inside the Google Assistant app. This project is our team's approach to solve the problems of the current Telstra Voice Assistant.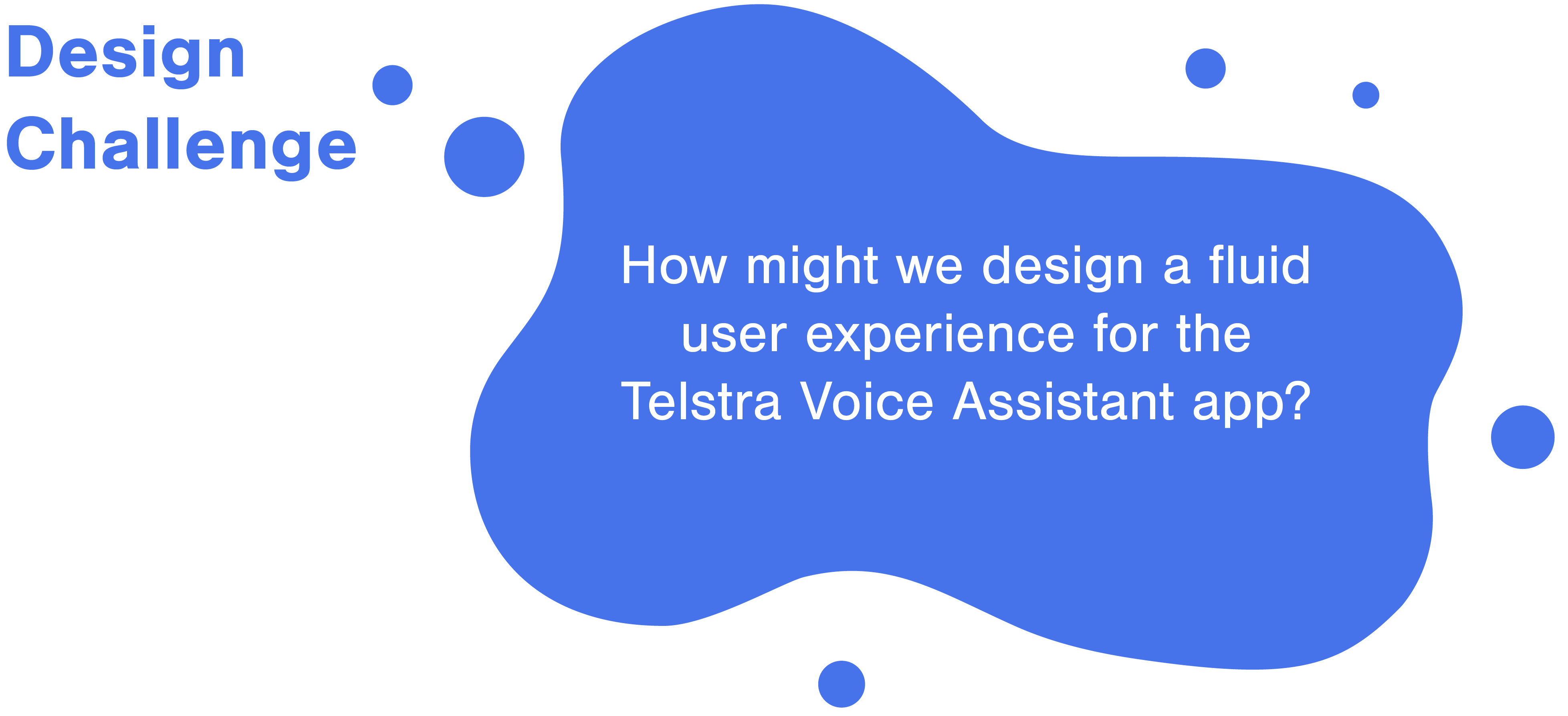 Design Challenge Response
About Telstra Voice Assistant
Telstra Corporation Limited is Australia largest telecommunications company. They are developing a Virtual Assistant embedded inside the Google Assistant App.


Target Audience
Telstra users with Google Assistant app installed on their phones.


The Problem
During user testing customers commented on how the interactions between using voice and the app weren't as fluid as they could be. They also missed many of the screen interactions that was being delivered from the app.
On the market

There are several Australian companies that have adopted this new technology in Google Assistant, such as NAB, AGL, Woolworths. At the moment, Optus is the only telecommunications company using Google Assistant for voice assistant. Vodafone has launched its Google Assistant-integrated app in Europe in October 2017 but has not made the debut in Australia.
︎ View full analysis here



We gathered our interview & survey datas and then categorised into these 3 insight groups:
Users are divided into 3 main groups: The Competent User, The Casual User and The Passive User.


Each group has its distinctive features in usage behaviour and attitude towards virtual assistant and voice technology in general. We created empathy maps to get a further understanding of each user group so as to define their goals and pain points.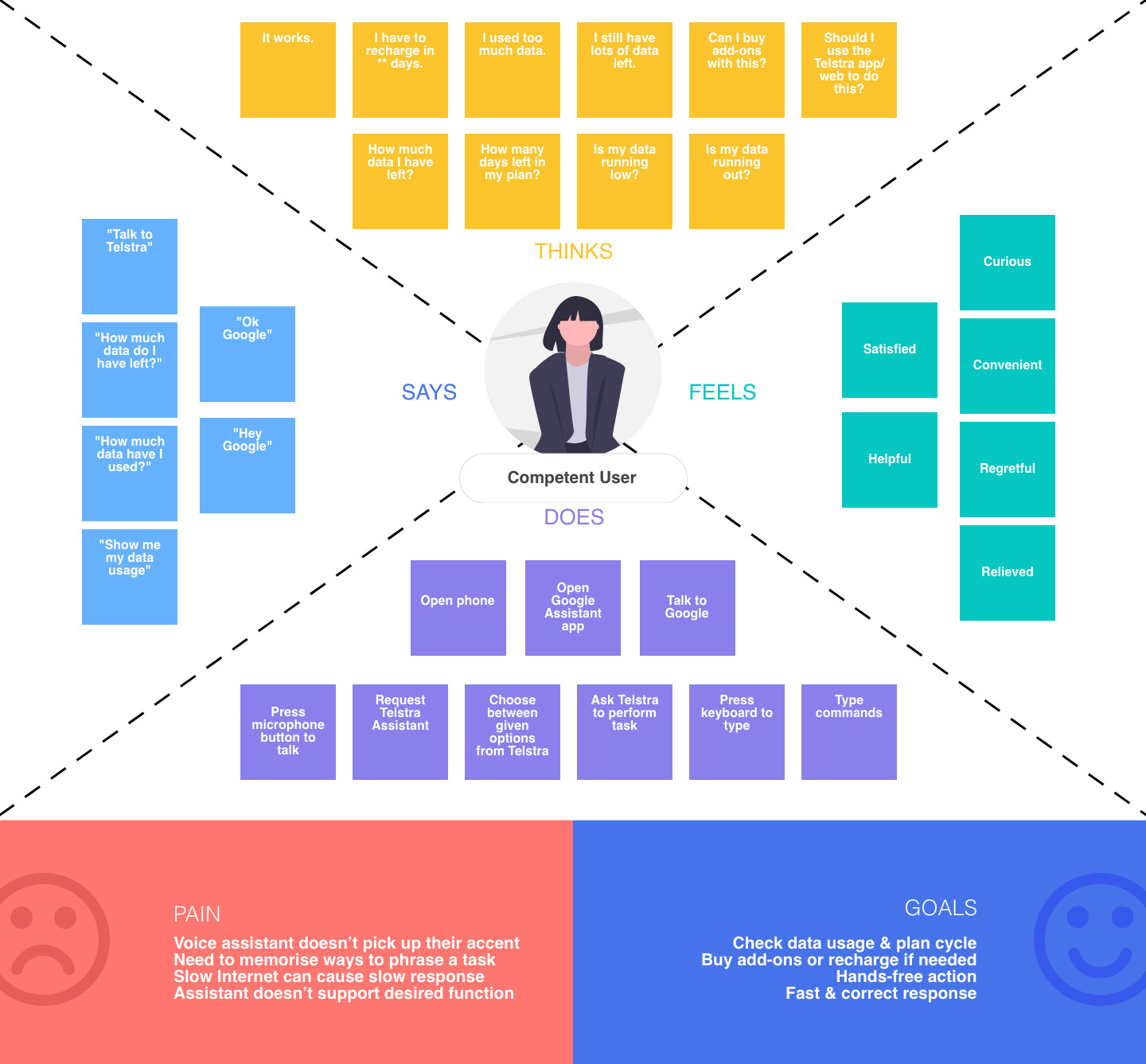 To have a better understanding of the product's real competitors – the traditional mobile application, we applied the 4 Forces Model in our process to find an effective way to approach the problem.
User flows & Use cases

After considering the functions for Telstra Assistant, we decided to start developing by creating user flows and use cases for some most-used features – checking data usage and paying bills.
Low fidelity prototype (touch & voice)

Scenario – "You are using a Telstra post-paid plan and want to check how many data you have left on your number: 0400 987 654. You want to try using Telstra Assistant to check your data usage."


Scenario – "It's almost time for you to pay the bill of your monthly post-paid number: 0400 987 654. You want to try using Telstra Assistant to pay this month's bill."
Lo-fi Usability Testing

We got 7 participants to take part in the usability testing session with our low fidelity prototype of Telstra Voice Assistant on Adobe XD. All of the participants were asked to finish 2 activities: check data and pay phone bill through Telstra Voice Assistant. Their overall impressions were how the Assistant was easy to understand and easy to use. However, its responses were slow and unrelevant. During the tests, we encountered some technical issues with the first 2 participants but we learned from that and improved our prototype right after that.
︎ View full report here
High fidelity prototype

With the data we gathered from the User Testing session for the Low Fidelity Prototype, we continued to improve our prototype with more features and developed solutions for the existed problems.
Hi-fi Prototype Usability Testing

Challenges

1. Google Assistant's terms and policies
We aim to develop our product while complying to the policies that Google created for 3rd party app. This situation has led us to limit the payment method to only Google Pay and existing payment option on user's Telstra account

2. Adobe XD limitation
During the user testings session, we realised that the limitation of Adobe XD have some certain effect on the result of the testing. Because if the user want to talk with the Telstra Voice Assistant, they need to hold on the screen to talk. This is different from how user interact with Voice Assistant in real life

3. First time users
The majority of the users weren't aware about how to call for a 3rd party assistant on Google Assistant and needed to be guide through to be able to do it. It is essential for us to work with the Marketing Department in order to educate the customers on the matter.
Final Outcome

After a cycle of testing and getting feedbacks and analysing our usability tests data, we concluded with the 3 factors that need to be acquired in Telstra Assistant.
A completed diagram of Telstra Assistant's functions.
We can also utilise Telstra's database to create a library of FAQs and give users useful and concise answers for their questions.
Key Takeaway

Gaining user interviewing and information processing experience.
Researching and analysing complex data.
Applying in experience design methods in real cases.
Learning to use Adobe XD for designing and prototyping.
Adobe XD Award

Our project won the "Best Effective Solution" of the 2019 RMIT – Adobe XD Award 2019, a collaboration between RMIT University School of Design and Adobe.
About #cursed_baos
💥
My Nguyen
(s3627571) – User Research, Competitor Analysis, User Flows, Empathy Maps, Journey Maps, Low-fi Prototyping, Usability Testing, Design
🐯
Thai Tue Linh Nguyen
(s3618859) – User Research, User Interview, User Flows, Journey Maps, Use Cases, Empathy Maps, Usability Testing
😬
Anh Nguyen
(s3575391) – User Research, User Interview, Empathy Maps, Journey Maps, Design
💅Youhan Mao (s3536506) – User Research, Company Research, User Interview, Usability Testing, Design, Video Editing
Special thanks to our lecturer
Rusty Benson
for guiding and helping us, and to RMIT University, Telstra & Adobe XD for giving us the opportunity to work on this amazing project.
Open-source illustrations by
unDraw
.
Thank you for making it this far ︎
Here's a little gift for you.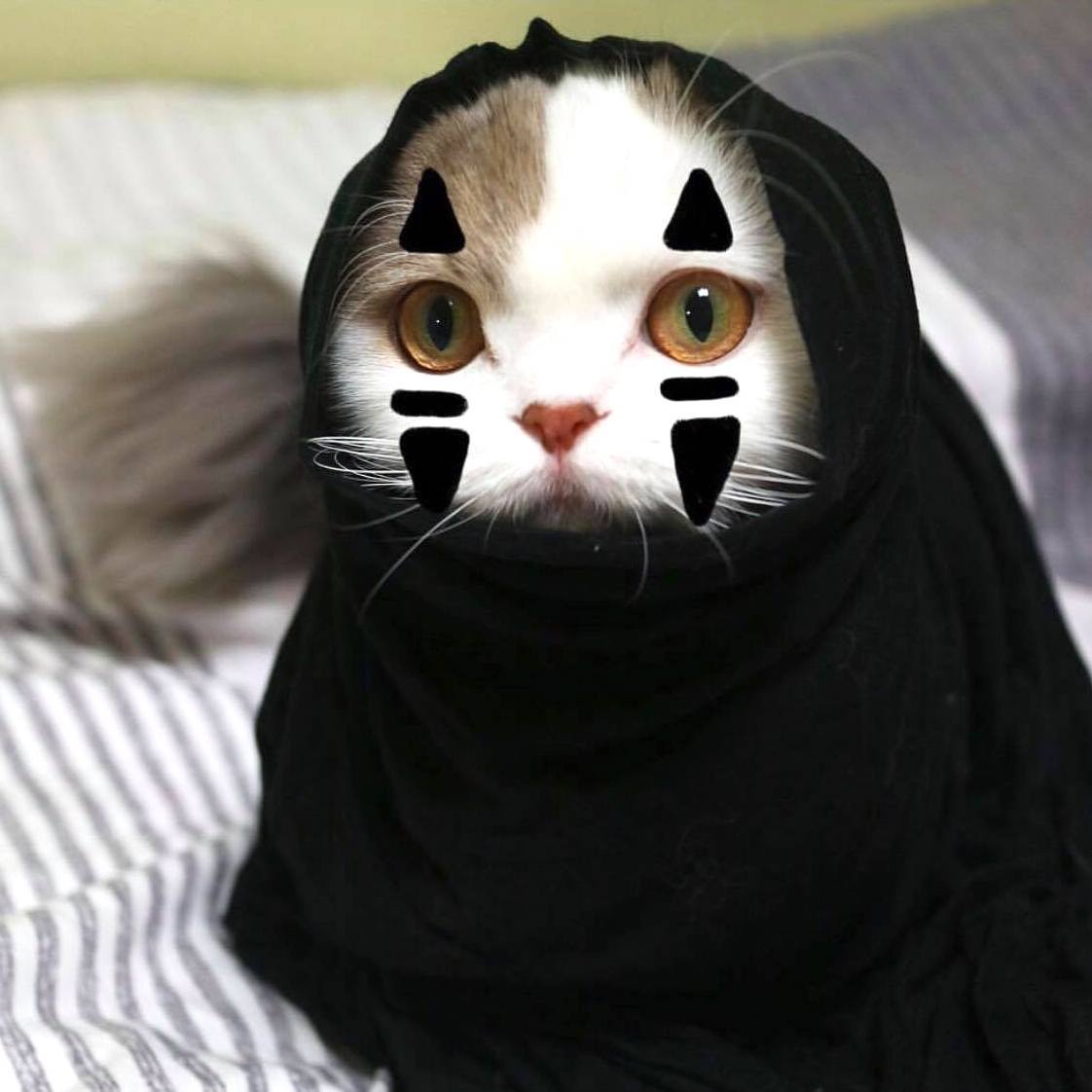 Overview

SleepCo is your advanced personal sleep assistant that aims to help you to create a perfect bedtime environment, track your sleep quality and help you get ready for a new day. This is a mobile app proposal project - a personal project for my Engaging the Mobile Environment course at RMIT University (2018).
The problem

Back in 2016, after reading Tristan Harris's article
"How Technology is Hijacking Your Mind"︎
on Medium, I've been really interested in the way that we use and interact with technology. Smartphone was created for us to experience more conveniences and to live a better life. Ironically, it is also one of the most important problems that we are facing, from lowering our self-esteem, limit our interaction with the outside world or bad sleeping habits.
With the alarming rate of more than 1/3 of Americans adults and nearly 150 million adults in the developing world reported getting less than 7 hours of sleep comes the concern of sleep deprivation across the world like never before. The science and awareness of a good sleep has been raised everywhere to undertake this issue, one specific factor leads to sleep disorders is reported to be the skyrocketed usage of mobile phone before sleep. A shocking 65% of global population sleep with their phones beside their beds and are showed more struggling to fall asleep, which results in lesser time in deep sleep.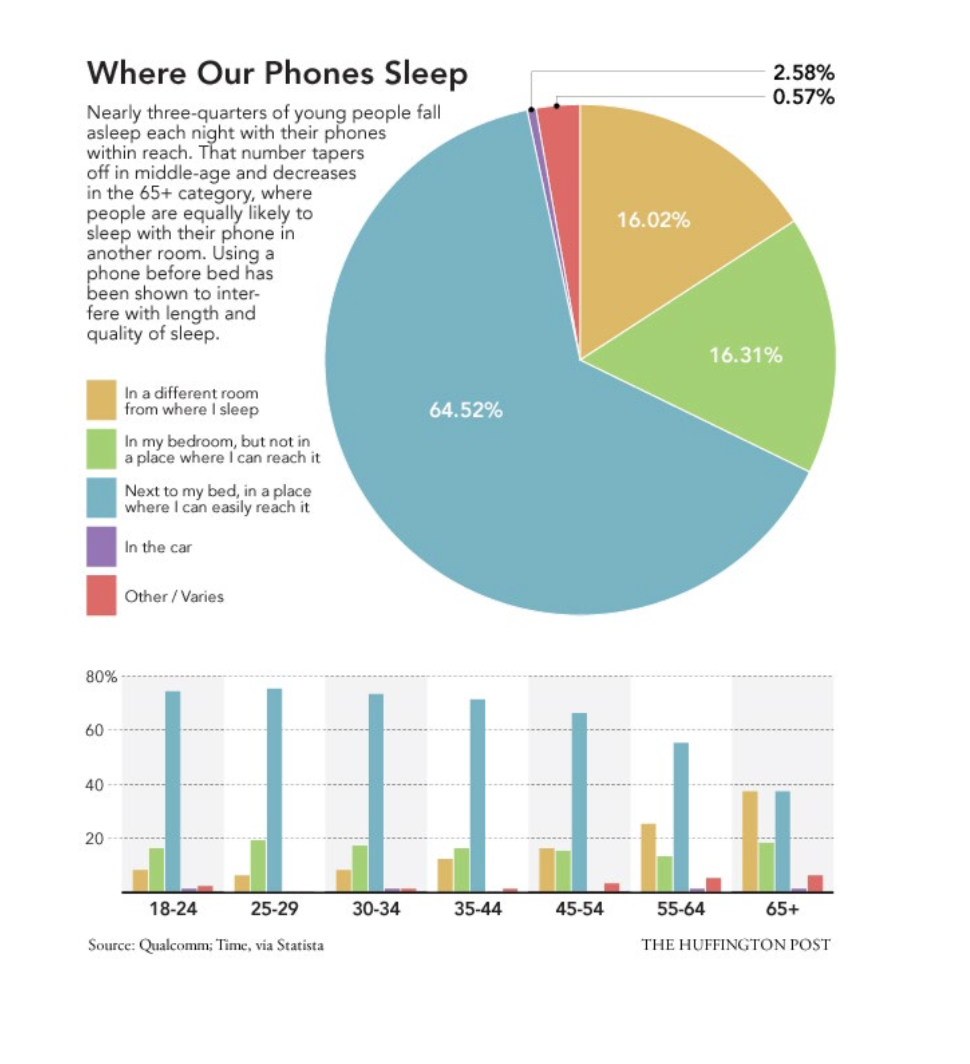 Where Our Phone Sleep by Qualcomm, 2012
The solution

Fast forward to the start of 2018, when I was given the assignment to develop and propose an idea for a new application, I took the chance to dig deeper into this topic and created my imaginary app - SleepCo. SleepCo is your advanced personal sleep assistant that aims to help you to create a perfect bedtime environment, track your sleep quality and help you get ready for a new day. Based on the collected information from the users or internal health monitor app, SleepCo sketches out a recommended sleeping plan. Through scientific analysis of the data, SleepCo coordinates with commonly used mobile apps and external hardware and devices to set up reminders and supplement the most sufficient resources to facilitate sleeping. Administration processes such as application usage and notification restriction are also utilised to reinforce healthier digital usage. Focus on building a better digital environment and helping users adopt better bedtime habits.

Administration processes such as application usage and notification restriction are also utilised to reinforce healthier digital usage. Focus on building a better digital environment and helping users adopt better bedtime habits.

UI proposal (1): Launch Screen; Home; Settings
UI proposal (2): Insights - Weekly; Insights - Daily; SleepCo's notification when user reaches time limit.





Main functions

- Create an ideal sleeping environment by connecting with user's Apple Home app, music, podcasts and ebook apps. SleepCo controls home appliances and connected electronic devices to adjust the perfect temperature, lightings, soundscape for sleeping, using scientific information.
- Screen and apps usage tracking and managing to limit the duration of phone usage before sleep and prevent sleep delay.
- Advanced sleep tracking algorithm with both motion and sound detection. Analyse user's sleep cycles (Awake, REM, Light sleep, Deep sleep) and sleep statistics.
- Recommend suitable sleeping time by Calendar, Reminder, Map and Weather. Select the best wake-up time, calculated according to real-time sleep analysis using motion & sound detection.
- Analyse improvement and comparison between sleeping habit with mood, health data and physical activity.
- Built-in library included soundscapes, podcasts, meditation and breathing courses. Customisable themes, snooze, alarm, sleeping modes and schedule.
- Data backup with iClouds and export feature.
Interactivities

Touch screen
Voice command
GPS, Mobile Data & Wifi
External devices (The tech industry is witnessing the growing influence of the Internet of Things and especially the submerging trend of smarthome. In response to this, SleepCo integrates HomeKit and capable of controlling any HomeKit-compatible appliances on the purpose of improving the sleeping environment (e.g. dimming sleep lights, closing off curtains, starting coffee machine, etc)
Analysis
The app could face some troubles from competitor apps (Sleep Cycle, Pillow, Calm, etc) that are already been in the market with advanced features and a considerable number of audience. However, there are opportunities with the rising trend of healthy lifestyle. Many applications have distracting features that make users forget their original goals. SleepCo includes options that send the user off the screen, help them focus on what they really want to do. SleepCo is not just a normal sleep tracking app on the market. Aside from helping normal users to record their sleeping habit, it also focuses on one of the main problem causing sleep deprivation. The app shows the effects of mobile applications on our health if used in a wrong way. Taking the chance from the expansion of IoT, the app is shaping up to contribute to the movement of a humane approach to mobile user.
iOS 12's new Screen Time feature
Softwares used

InVision Studio (Beta), Adobe Illustrator
Key takeaway

The proposal for SleepCo was such a fun project to do since I have always been passionate about designing for a better cause. Later in 2018, after trying the beta release for developers of iOS 12, I was so excited to see Apple has taken action in improving customer experience in a more meaningful way with its new Screen Time function. It could help to make people be more conscious of how they are using their phone and managing their screen time better.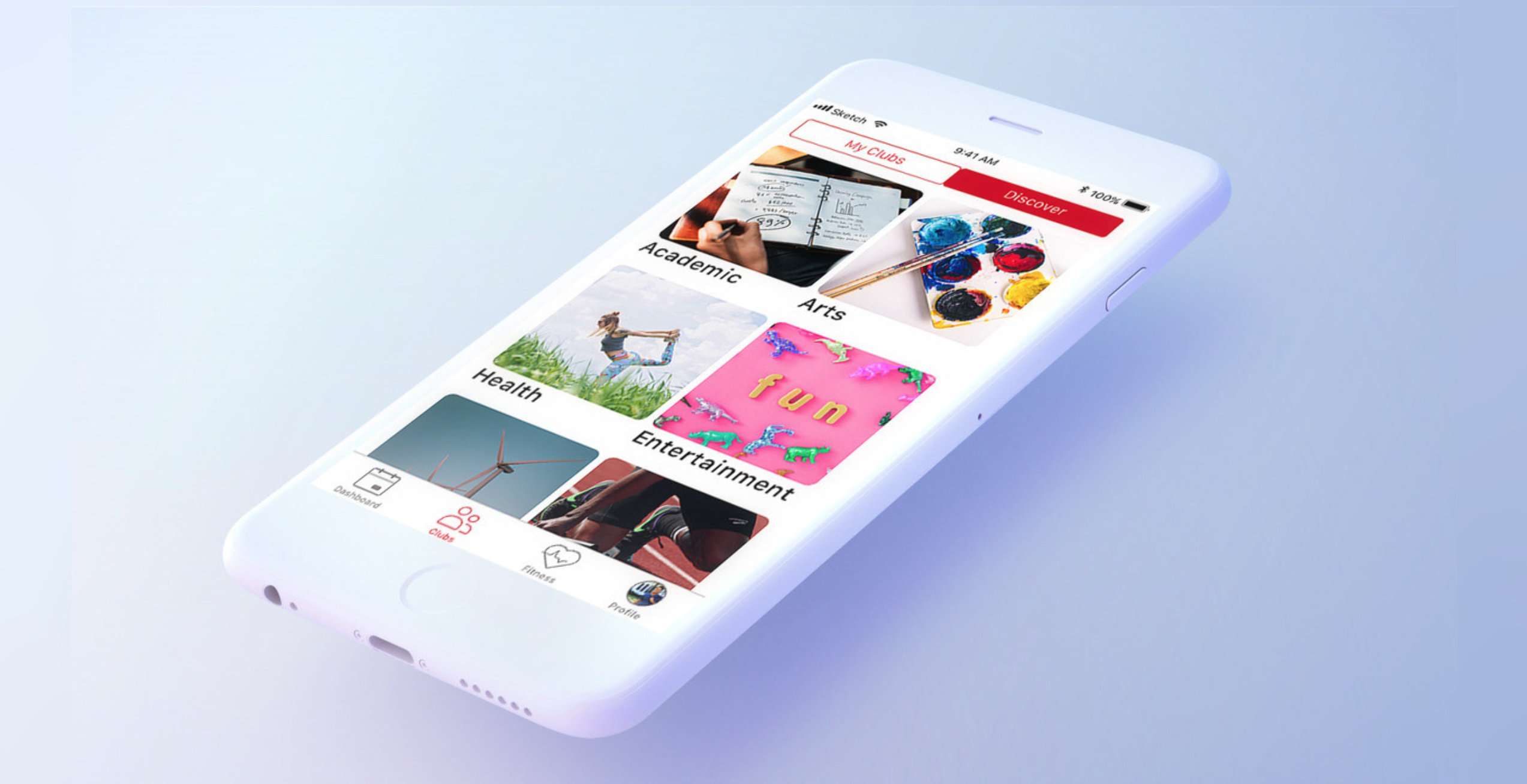 WHYPHY- an iOS-based lifestyle and networking app, specially designed for RMIT students who are interested in socialising and keeping fit. Our aim is to create an app that will cater to these students' needs and wants.
Overview

The objective of this assignment is to design a prototype for a mobile application that provides RMIT students with incentives to commute and participate in club activities.
The application name - WHYPHY - is the abbreviation of the slogan "Work Hard? Yes! Play Hard? Yes!", which encourage students in RMIT to engage in the RMIT community and raise awareness about cycling and fitness activities. We think that the more work-life balance they have, the more successful they will be in the future.






Target users


The university assumes that the main target users are RMIT students who are currently attending classes in campus. We defined and researched our target audiences. Based on the results, the personas were created with the main target groups - 3 kinds of students that would be likely to use the app.


Key features

Event: Where students can find the latest activities and events on campus as well as register or unregister for those events.

Community: Provide users effective ways to engage in the RMIT community. Students can discover new clubs to join and get updates of their clubs.

Health: Designed for fitness activities, allows students to keep track of their progress in exercising and cycling.

Gamification feature includes accumulation of points and badges to motivate participants to engage in exercises regularly to level up their badges.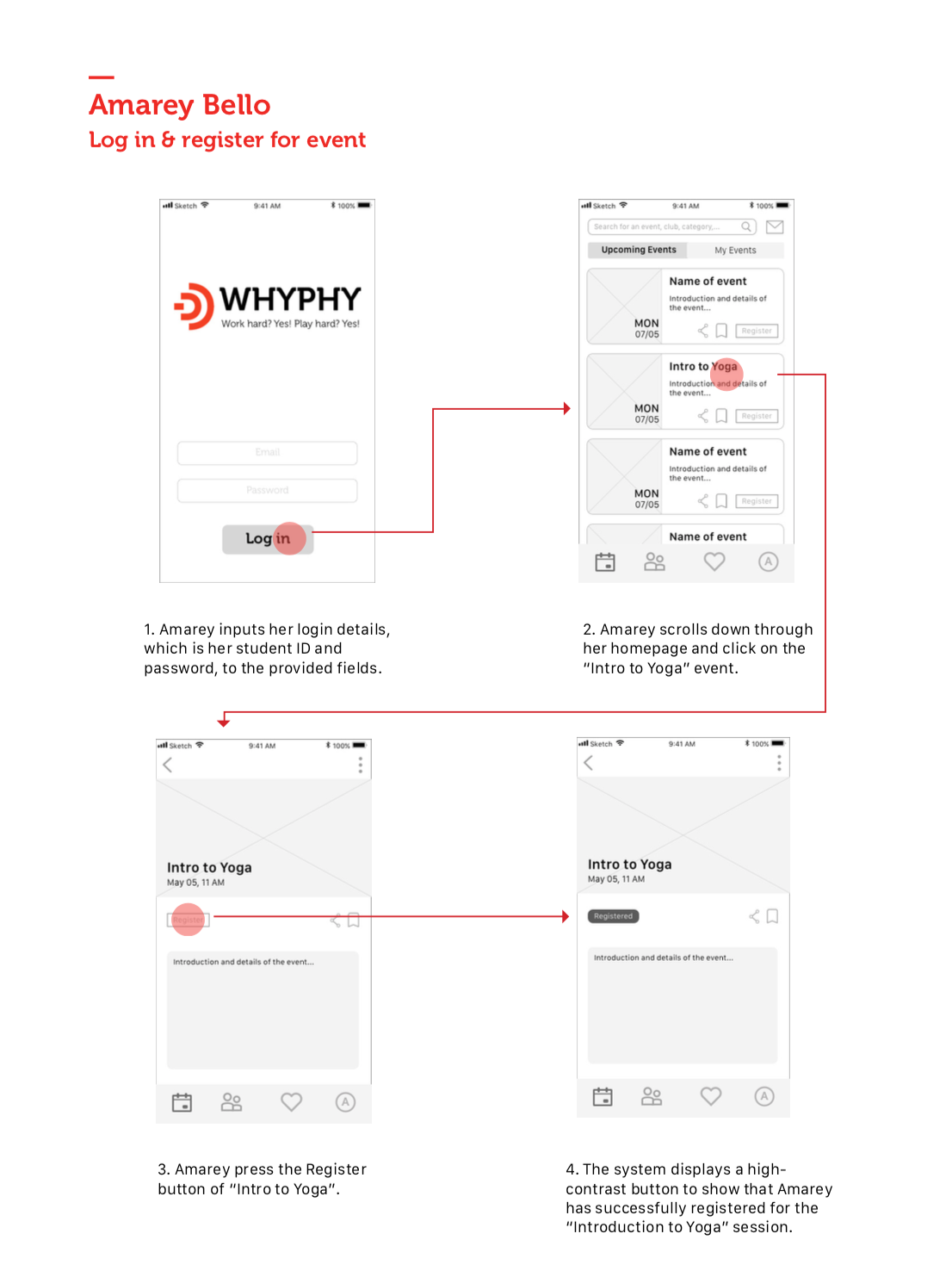 My role

Key UI designer.
Creating wireframes & prototype.
Collaborating with other team members to create personas, scenarios & app features.
Conclusion & learning
This was my first UX design project, working alongside IT and Programming students. This has been a very valuable experience. I got to learn about:

Basic steps of creating and designing experience for an application.
Applying learned knowledge such as Nielsen's law, research method, etc., in real project.
Working in a team with different roles, different background and ethnicities.
From my User-centered Design course (2018). Special thanks to my teammates: Milindi Kodikara, Sheryl Hanna Mantik and Yen Tran.
This is an explanation video of the 2 Process Model of Sleep regulation, to be used as part of a PhD, which involves designing a Sleep Psychology Training Workshop for Master of Psychology Students at RMIT University. It will be used to show trainee and future psychologists (and subsequently their clients) the implications of changes in sleep/wake times, napping and stress/arousal on sleep regulation.
Client:
Hailey Meaklim
(College of Science, Engineering, and Health – RMIT University)
This video was proudly supported by the Biomedical and Health Innovation ECP 2019 Capability Development Fund (CDF) at RMIT University.
Motion Designer
My Nguyen
Narrator

Hailey Meaklim
Website:
haileymeaklimpsychology.com.au
Twitter: @SleepPsych_Aus
Script Development
Hailey Meaklim
Melinda L. Jackson
Melissa Monfries
Moira Junge
Imogen Rehm
Flora & Fauna
is my work during my motion graphics internship at RMIT ABC Fact Check (Melbourne), collaborating with Nghi Pham and under Devi Mallal's supervisor. The video answers the question: were Australian Aboriginal people classified under a Flora and Fauna Act before the 1967 Referendum?
Motion designer: Nghi Pham & My Nguyen
Presenter: Del Irani
Supervisor: Devi Mallal